Some (hairdressers) say "hairdressing" is an art form. Truth be known, it's not such deep rocket science that you can't do at least some of it yourself. With the proper tools, you can raise your own winterized spirits by adding carefully selected rays of sunshine around your sun starved face - which then frees up an extra eighty bucks to put towards that new boogie board.

All home hair coloring labs need aluminum foil, rubber gloves, a plastic container, and an application brush. Most of these supplies are available at anytown USA's beauty supply outlet (or Rickies). For highlights we recommend using 40 volume peroxide and de-dusted bleaching powder. Once you have braved the world of highlighting solo - you can also master the reverse, adding darker chunks, whenever the mood strikes you.
Tips on lowlights: Pick out a good neutral brown, a 20 volume peroxide and the standard hairdresser's first aid in a bottle called Metalex. If you hate what you've done immediately afterwards - you can douse the dyed area - and in 20 minutes can magically rinse out a huge portion of the dye you just used. It works wonders for single processed brunettes and redheads to help lift darker build-up from hair's ends.
Price matters. We have noticed that the cheaper domestic browns are more prone to brassy red tones. Our favorite German brand, Kadus, costs a little more, takes half the time to set - and never reddens.
Good general advice: We advise avoiding acts of self-coloration (and using scissors anywhere remotely near hair) during times of heightened PMS. Often we don't really want to look like we thought we wanted to, after the fact. Sometimes it's too late to turn back - even armed with Metalex.
Here we go: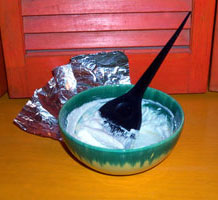 • Take a good look at yourself and single out 3 to 5 starter areas that you'd like to see blonde. If you already have a three-way mirror you've hit the self-hair-lab motherlode. Otherwise a good ol' hand mirror makes a great assistant.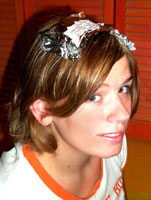 • Cut or tear a piece of foil about 3 to 4 inches wide and as long as half your hair's length.

• Mix equal parts of 40 Volume peroxide and powder, eyeballing a teaspoon of powder per anticipated chunk bleaching. Stir till you have nice fluffy goop.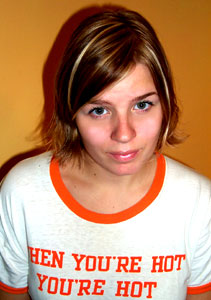 • Separate your new chunk to be and lay it flat over a piece of foil. Starting at the roots, brush your goop on the hair until the foil's end. Fold the remaining dry hair into the foil - and cover it with goop too. Fold the rest of the foil around the hair so your goop doesn't go anywhere else.
• Depending on how light your hair is, this process usually takes at least 15-20 minutes, at which point you should carefully open a foil and take a peek. If you chunk is a much lighter blonde or even white, you're done. If it has a brassy, not yet blonde enough tinge - wait 10 more minutes and then test it again.

• If you are done, carefully remove your foil and rinse each chunk individually. If it's not light enough, you can always do it again. If your chunk is too fat, you can always break it up with a smaller strip of a darker color in the middle.


• Wash and dry your hair like you always do.